A $5 ticket with a top prize of $50,000.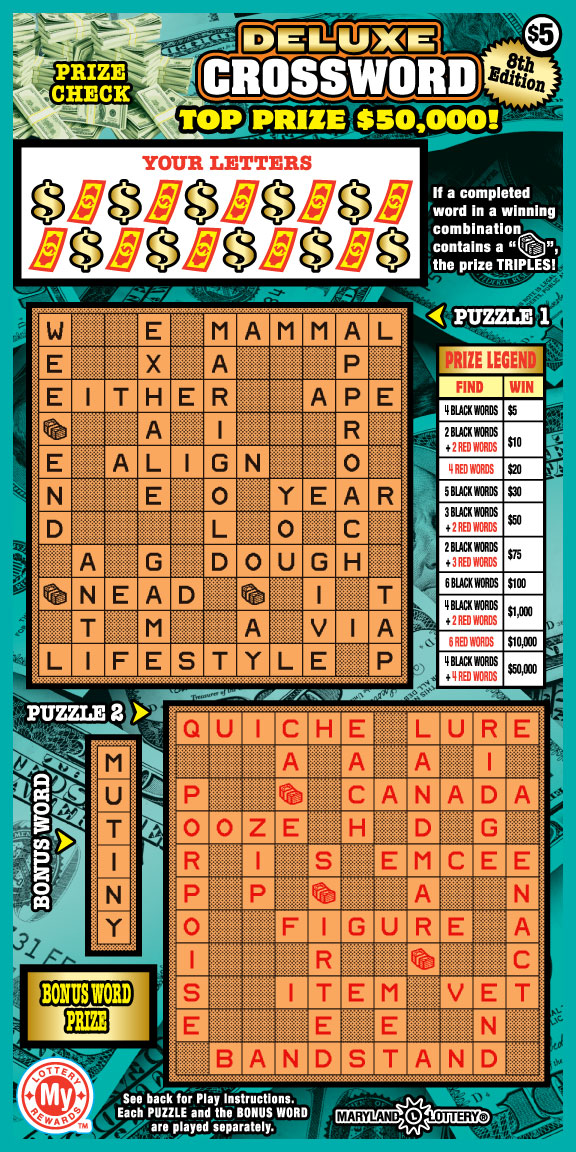 Price: $5
Top Prize: $50,000
Top Prizes Remaining: 6
Chances to Win:
Game Start: 09/18/2023
Probability of Winning: 1 in

3.47

Game Number: 653
How to Play
Scratch entire YOUR LETTERS area to reveal 20 YOUR LETTERS.
For each letter revealed in the YOUR LETTERS area, scratch that same letter each time it is found in the CROSSWORD Puzzles.
Scratch four (4) or more complete words in either or both CROSSWORD Puzzles and win the corresponding prize found in the PRIZE LEGEND. Only the highest corresponding prize in the PRIZE LEGEND can be won.
"Money stack" symbols are free spaces. If one of the 4 or more completed words contains a "money stack", the total prize TRIPLES.
Each CROSSWORD Puzzle and BONUS WORD are played separately.
BONUS WORD: Scratch each letter in the BONUS WORD that corresponds to YOUR LETTERS. If you match the complete BONUS WORD, win the prize shown for its PRIZE box. Wins in the BONUS WORD play area cannot be used to win the main CROSSWORD Puzzle prize.
Probability of Winning: 1 in 3.47
Prizes Remaining
| Prize Amount | Start | Remaining |
| --- | --- | --- |
| $50,000 | 8 | 6 |
| $10,000 | 14 | 10 |
| $1,000 | 47 | 33 |
| $150 | 1310 | 974 |
| $100 | 2290 | 1678 |
| $90 | 5175 | 3760 |
| $75 | 8708 | 6400 |
| $50 | 11537 | 8455 |
| $30 | 64798 | 47734 |
| $20 | 74267 | 54598 |
| $15 | 119715 | 88035 |
| $10 | 358326 | 263830 |
| $5 | 474479 | 350179 |
Records Last Updated: 12/07/2023