A $2 ticket with 10 chances to win and a top prize of $10,000.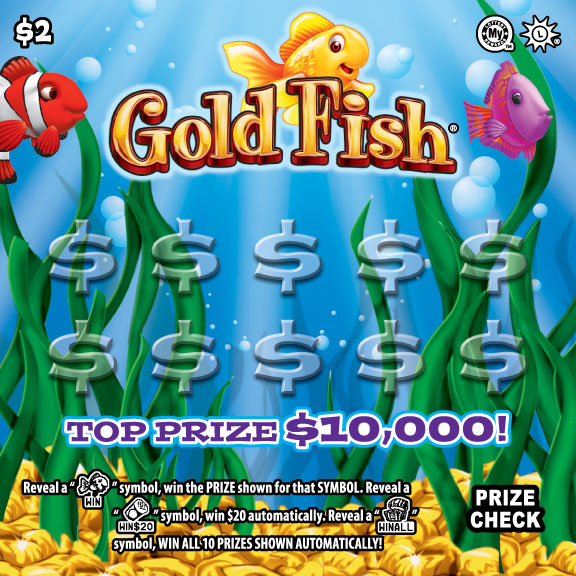 Price: $2
Top Prize: $10,000
Top Prizes Remaining: 3
Chances to Win: 10
Game Start: 04/24/2023
Probability of Winning: 1 in

4.12

Game Number: 630
How to Play
Reveal a "gold fish" symbol, win the PRIZE shown for that SYMBOL. Reveal a "fish food" symbol, win $20 automatically. Reveal a "treasure chest" symbol, WIN ALL 10 PRIZES SHOWN AUTOMATICALLY!
Probability of Winning: 1 in 4.12
Prizes Remaining
| Prize Amount | Start | Remaining |
| --- | --- | --- |
| $10,000 | 6 | 3 |
| $2,000 | 14 | 5 |
| $1,000 | 22 | 10 |
| $500 | 188 | 77 |
| $100 | 2109 | 780 |
| $50 | 6078 | 2390 |
| $20 | 31636 | 13397 |
| $10 | 63272 | 25125 |
| $5 | 126544 | 51988 |
| $4 | 189842 | 78572 |
| $2 | 347944 | 148530 |
Records Last Updated: 09/29/2023