Peppermint Payout Multiplier
A $3 ticket with 9 chances to win and a top prize of $30,000.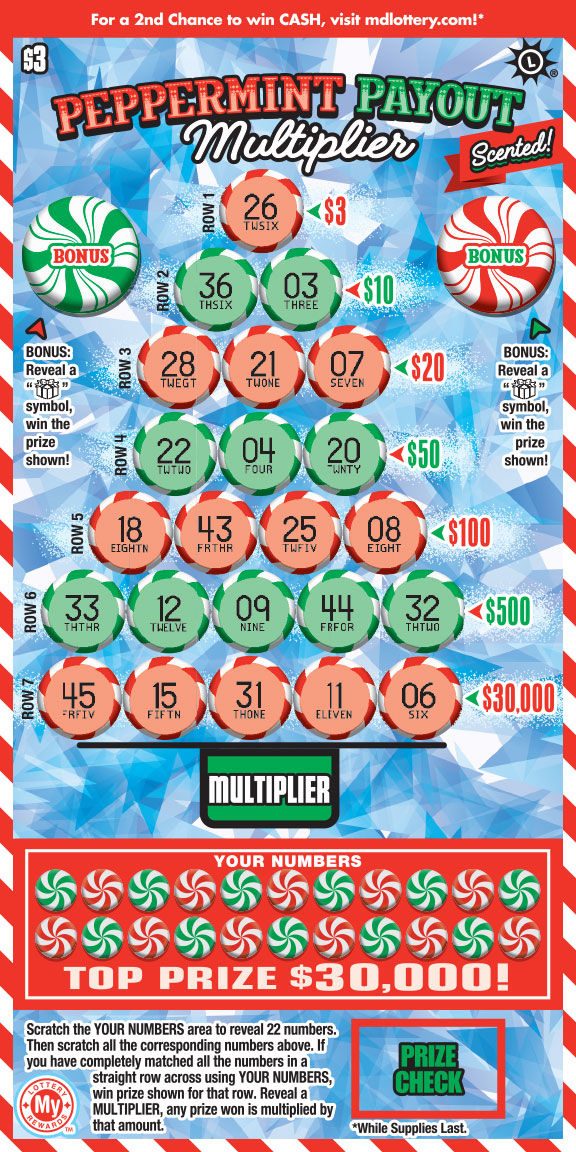 Price: $3
Top Prize: $30,000
Top Prizes Remaining: 5
Chances to Win: 9
Game Start: 10/23/2023
Probability of Winning: 1 in

3.99

Game Number: 658
How to Play
Scratch the YOUR NUMBERS area to reveal 22 numbers. Then scratch all the corresponding numbers above. If you have completely matched all the numbers in a straight row across using YOUR NUMBERS, win prize shown for that row. Reveal a MULTIPLIER, any prize won is multiplied by that amount.
Probability of Winning: 1 in 3.99
Prizes Remaining
| Prize Amount | Start | Remaining |
| --- | --- | --- |
| $30,000 | 6 | 5 |
| $500 | 868 | 677 |
| $100 | 4443 | 3421 |
| $50 | 7167 | 5511 |
| $20 | 85441 | 65833 |
| $10 | 216375 | 167004 |
| $3 | 538671 | 419408 |
Records Last Updated: 12/07/2023