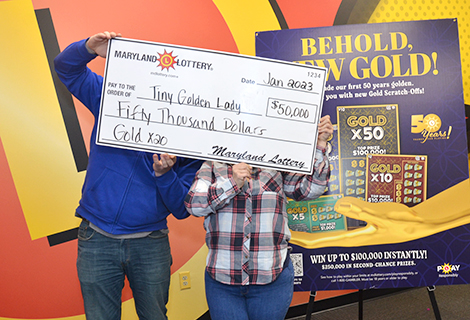 A mother of two, "Tiny Golden Lady" of Sparrows Point won the first $50,000 top prize on a Gold X20 scratch-off.
'Tiny Golden Lady' takes home $50,000 prize
A 37-year-old is taking home the gold, after scratching off a Gold X20 game and claiming its first $50,000 top prize! The Baltimore County woman was home doing laundry Saturday night when she decided to try her luck.
Naming herself "Tiny Golden Lady" to tell her winning story, the lucky lady said she played the Gold X20 game because she had recently won $5 on it. While in the middle of doing a load of laundry, she went to a 7-Eleven in Baltimore to cash in her $5 win. She purchased three more instant tickets and a crossword scratch-off game. "Tiny Golden Lady" played the games after returning home and was shocked when she thought she won $50 on the Gold X20 scratch-off.
"I scratch the numbers first to see if I have a match and then see the prize below," she said. "When I saw the five and zero, I mistook the comma for a period." Thinking how great it was to win $50, "Tiny Golden Lady" called her husband to share the news. "I read the ticket and thought winning $50 was awesome," said her husband.
However, looking at the ticket a second time, the lucky player realized she had more scratching to do. She revealed more and more zeros. "Tiny Golden Lady" saw that her win was really $50,000. In disbelief, she showed her husband the instant ticket a second time and he instantly went into protective mode.
"I started locking all the doors and I put the ticket in a Ziploc® bag and hid it," he said. "I was so nervous."
The winner, a food and beverage manager and bartender from Sparrows Point, wasted no time in making an appointment to claim the prize. The mother of two also shared what she plans to do with the winnings. "Tiny Golden Lady" is looking for a new home for her family and now has the money for a down payment. She may also use some of the prize to catch up on bills.
"Tiny Golden Lady" purchased the winning $5 instant ticket at 7-Eleven #38196 located at 5230 North Point Boulevard in Baltimore County. The Lottery retailer will receive a $500 bonus from the Lottery for selling a $50,000 top-prize winning scratch-off.
She claimed the very first $50,000 top prize in the game, which went on sale Jan. 23 with a family of Gold Multiplier scratch-offs and a Gold Multiplier second-chance promotion. Eight more top-prize winning scratch-offs are waiting to be found along with more than a million prizes ranging from $5 to $5,000. Other members of the scratch-off family are the $1 Gold X5, $2 Gold X10 and $10 Gold X50 games.